Rode NT1-A Microphone Review - The one for whispering
Updated on March 16, 2021
Introduction
The Rode NT1-A, a large diaphragm condenser microphone, is known in the ASMR community for its very low self-noise and affordable price tag. It's even dubbed as the quietest studio microphone in the market right now. This Rode mic is a great choice for people who are looking for a mid-range microphone which doesn't sacrifice sound quality.
The Rode NT1-A is a follow up model released by Rode as an improvement on their well-loved NT1 microphones originally launched in 1991. The two microphones share the same look but the NT1-A is equipped new circuitry and full range of frequency response. Compared to its predecessor, the NT1-A also has a more sophisticated and modern sound.
Get to know more about the Rode NT1-A microphone as we discuss its features in more depth.
Specifications
| | |
| --- | --- |
| Power Requirements | P 24 or P48 V |
| Frequency Response | 20 Hz- 20 kHz |
| Capsule | 1" |
| Output | XLR |
| Self-noise | 5 dBA |
| Max SPL | 137 dB |
Sound Quality
The Rode NT1-A records sound in a cardioid polar pattern which means that it has excellent background noise rejection. This pairs well with its very low self-noise which is great for recording ASMR triggers. We'll discuss the NT1-A's noise performance in more detail in the next part of this review.
This microphone produces clean, bright and detailed sounds but seems to be a bit lacking when it comes to lows. Still, a lot of ASMR artists prefer to use this as their main microphone when making videos. Some of them are ASMR KittyKlaw, ASMR Darya, ASMR Live, MissChloeASMR and Rapunzel ASMR.
These artists and their listeners like the Rode NT1-A because it works well for ASMR triggers like speaking, whispering, breathing and other mouth sounds. According to them, the NT1-A produces more accurate sounds compared to other microphones like the Blue Yeti or the coveted 3Dio binaural microphones.
The NT1-A is also a great microphone to use when it comes to recording acoustic music and podcasts. For one, acoustic guitars and even electric guitars sound amazing when recorded through this microphone. It's also great to use for recording voice and singing.
A warning though, if you plan on recording triggers that involve some hissing sounds, you might want to buy a pop filter along with this mic to resolve its issue with sibilance. You can also remove the extra hissing sounds using audio editing software after you record it.
Noise Sensitivity
The Rode NT1-A's primary selling point among ASMR artists is its extremely low self-noise (just 5 dB-A). For reference, a good self-noise for ASMR is 15 dB-A. This makes this Rode microphone one of the quietest, if not the quietest, large diaphragm condenser microphones you can purchase today. In connection, this mic has a signal to noise ration of 75-80 dB.
The microphone is also very sensitive to quiet sounds having a sensitivity of -31.9 dB which is a great thing for ASMR. Paired with its low self-noise, the Rode NT1-A can easily capture sounds from the quietest sources. You can easily record tapping, scratching and rubbing triggers on this mic without having to adjust volume in post-editing.
Power Requirements & Build Quality
You can rest assured that the Rode NT1-A is a very durable microphone. The mic has a satin-finished and nickel-plated body while its one-inch capsule is guarded by a stainless steel grill. Its capsule also has a gold-plated diaphragm. One downside of the mic's simple design is that it has neither pads or filters which are usually present on other microphones.
The microphone needs another power source to run; preferably one that can accommodate P24 or P48 volts of phantom power. This means that you'll have to buy a separate recorder in order to use this microphone to record audio. We recommend that you check out either the Zoom R24 or the Zoom H4N. What's particularly great about the Zoom H4N is that you can use it both as a microphone and recording device.
The Rode NT1-A comes with a one-year warranty which can be extended up to 10 years when you register your purchase with Rode.
Microphone Setup
What's in the Box
Microphone
Pouch and dust cover
Shock mount
Pop filter
XLR to XLR cable
Manual
Again, you'll need a recorder to be able to use the Rode NT1-A.
Here are some tips on which settings and tools you can use to get the best sound out of this Rode microphone.
First, we really recommend that you use the pop filter that come with the microphone as it helps in lessening stops or plosive sounds which can cause the microphone's capsule to produce a popping sound. Using the pop filter will also reduce the formation of moisture in your microphone.
When recording speaking or whispering triggers, we advise that you do so at least six inches away from the microphone to maintain consistent recording levels. You can also choose to experiment with the angle in which you use your mic. Use the gold dot on the microphone as a reference point when doing so.
Pros
Good mid-range microphone
Produces clear and detailed sound
Great for whispering and breathing triggers
Extremely low self-noise
Cons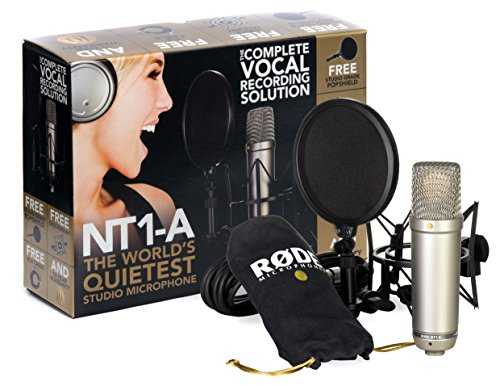 Compared to Other Microphones
Most ASMR artists use the Rode NT1-A alternately with other microphones for their practice. Usually, they use it along with 3Dio binaural mics and the Blue Yeti mics.
Compared to other microphones, the NT1-A is the best for whispering and speaking triggers as they sound clearer when recorded on the Rode mic. Meanwhile, it is not the best for crinkling and frictional sounds as it can be a bit shallow and harsh. For these triggers, the 3Dio mics are more preferable.
When it comes to price, the Rode NT1-A sits in the middle of the Blue Yeti mics which retail for under $150 and the 3Dio mics which retail for hundreds of dollars. You can buy the NT1-A online for as low as $229.
Verdict
It's not hard to see why the Rode NT1-A is a popular choice among ASMR artists. It turns in great results given its affordable price being able to produce clear and detailed sound. Its very low self-noise and high sensitivity are also features that ASMR artists will find quite impressive.
We recommend this microphone for people out there who are fairly new to making ASMR videos looking for a great starter microphone at a price that won't break the bank.
---