Audio-Technica AT2020 Full Review: Everything You Need to Know
Updated on December 15, 2022
Introduction
With so many professions relying on audio recordings, investing in the right microphone is critical. In fact, this decision isn't limited to professionals because many hobbyists value crisp recordings as well.
When it comes to ASMR recordings, their success is undoubtedly dependent on microphones. You see, if you don't use a model designed to detect subtle and nuanced sounds, the results will be disappointing.
What about the Audio-Technica AT2020? Is it capable of providing the required sound sensitivity? Continue reading to learn more about the AT2020, who it's suitable for, and what alternatives are available!
What Is a Condenser Microphone?
Before we get into the Audio-Technica AT2020 review, we think you should know more about its type. Generally speaking, there are three main types of microphones available:
Each type has a unique build and design that allows it to operate differently than the others. The AT2020 is classified as a condenser microphone.
In a nutshell, condenser microphones rely on electrostatic technology to operate. Their design features two charged metal plates, a diaphragm, and a back plate.
When sound waves strike the diaphragm, they vibrate within it, and the space between the diaphragm and the back plate causes capacitance. This results in minor voltage changes that closely resemble the original wave.
This mode of operation, along with the diaphragm's sensitivity, is one of the primary reasons why this type excels at capturing subtle sounds.
Matter of fact, condenser mics provide the best high-frequency audio reproduction of the three microphone types. Therefore, they're the go-to choice for recording acoustic instruments, vocals, ASMR, and so on.
Condenser microphones are divided into two types: large diaphragm and small diaphragm.
Simply put, large-diaphragm microphones, such as the AT2020, have a 1-inch or larger diaphragm. Because they're better at detecting low-frequency and deeper sounds, they're ideal for recording voices.
On the other hand, small-diaphragm microphones are superior at picking up high-frequency sounds, and thus, are perfect for recording instruments.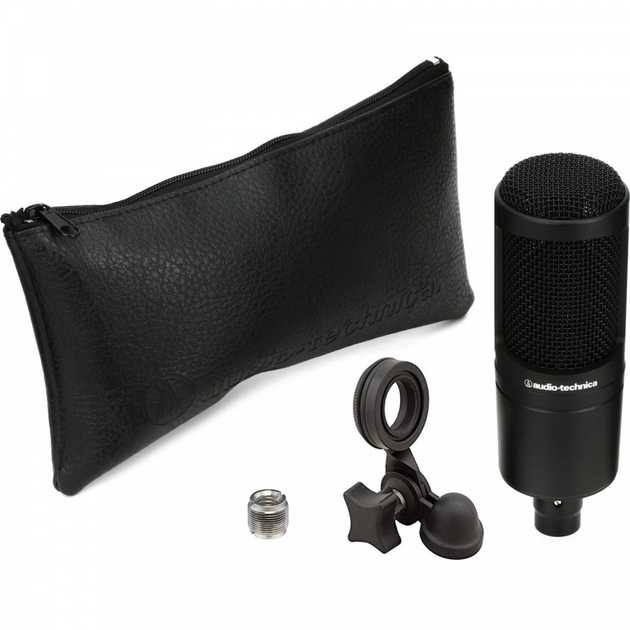 Overview of Audio-Technica AT2020 Specifications
Dimensions: 6.38" long, 2.05" maximum body diameter

Weight: 345g

Polar Pattern: Cardioid

Frequency Response: 20 - 20,000 Hz

Output Connector: Integral 3-pin XLRM-type

Phantom Power Requirements: 48V DC, 2 mA typical

Maximum Input Sound Level: 144 dB SPL, 1 kHz at 1% THD

Signal-to-Noise Ratio: 74 dB, 1 kHz at 1 Pa
What Are the Pros and Cons of Audio-Technica AT2020?
The AT2020 stands out among home studio microphones for several reasons. At the same time, it has some flaws that may be a deal breaker for some.
Let's go over the major pros and cons of purchasing this condenser microphone so you know exactly what to expect:
Pros
Pretty affordable given its premium features

The microphone has an all-metal body that's quite durable

Includes a high-quality, versatile stand mount

Comes with a soft pouch to keep the microphone safe when not in use

Has a broad frequency response that captures subtle sounds accurately

Offers a fantastic transient response thanks to its low-mass diaphragm

Has a cardioid polar pattern, which reduces picking up background noise

Handles high sound pressure levels (SPL) smoothly
Cons
Requires an external phantom power supply to function

Doesn't include a microphone cable or a stand

Relatively generates an observable amount of self-noise

Doesn't work well in live performances as it isn't designed to handle loud sounds

You may need to purchase a pop filter/windscreen to reduce the proximity effect
Key Features of Audio-Technica AT2020
Now, let's get into more detail about what makes the Audio-Technica AT2020 a promising choice. There are mainly four key features that we find impressive in this mic given its price range; take a look:
Overall Design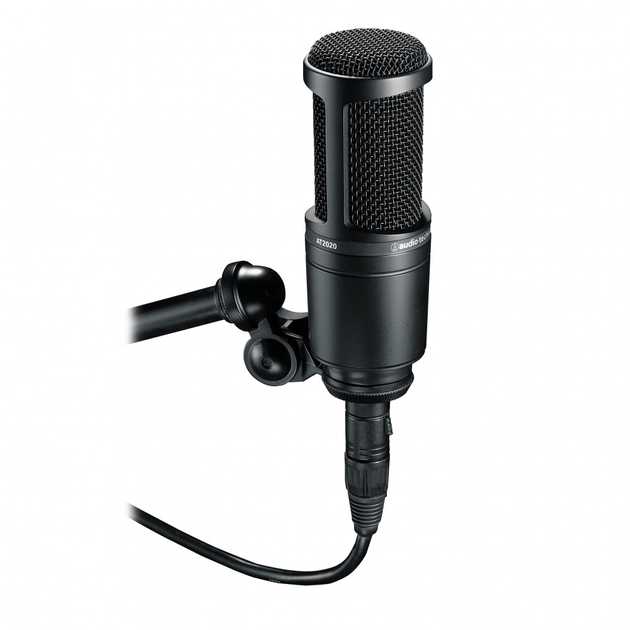 We'll start with the overall design or construction of the AT2020. At first glance, you can tell it's a well-built microphone. It has a sleek, professional look that we absolutely love. The mic also features a classic cylindrical shape.
All the sophisticated internal electronics in the mic are properly shielded by a durable metal cage and a metal grille. These robust layers help to minimize the damage if the mic falls or simply collides with another object.
Moreover, the AT2020's stand mount is made of high-quality metal and provides maximum stability. You see, during setup, this mount is screwed to the microphone.
We also appreciate how adaptable the mount is. It can rotate 360° and its angle can be easily adjusted to bring it closer or further away from your mouth.
On a side note, we think Audio-Technica made a nice gesture by adding a small detail to this microphone design. They marked the back of the mic so you don't forget and record facing this side only to discover that the sound isn't audible at the end.
Cardioid Polar Pattern
One of the most critical aspects to look into before purchasing a microphone is its polar pattern. That's why we'll explain it briefly, in case you're unfamiliar with it. In layman's terms, a polar pattern is a space around the microphone where sound can be detected.
Put differently, it's the direction from which the microphone is most sensitive to sound. For example, some microphones can only pick up sounds in front of them, whereas others can detect sounds from any direction.
That said, the three most prevalent polar patterns are as follows:
Cardioid

Omnidirectional

Bi-directional, also known as figure-8
This Audio-Technica model detects sound in a cardioid polar pattern, so we'll focus on that. Cardioid microphones pick up soundwaves in the shape of a heart, which is actually how this polar pattern got its name!
To clarify, the cardioid polar pattern is unidirectional. It's most sensitive to sound in front of the microphone, then becomes less sensitive from both sides, and finally loses coverage on the backside.
You can see how the AT2020 can provide excellent sound isolation. We can't promise that you'll get the best noise cancellation, but we can bet that any unwanted noise will be significantly reduced.
Not only that but AT2020's high sensitivity to sounds in front of it results in incredibly crisp audio.
Low-Mass Diaphragm
The AT2020 built-in diaphragm is extremely delicate and low-mass. A microphone diaphragm is a thin plate that moves in response to changes in external sound pressure. Basically, it's fundamental in converting sound waves back to their original form.
With this in mind, the diaphragm of this condenser microphone is engineered in such a way that it has a wide frequency response. To be more specific, it detects all sounds within the audible frequency range for humans, which is 20 Hz to 20 kHz.
What's more, the diaphragm of the AT2020 provides fast and accurate transient responses for recordings with greater detail.
To put it simply, transient response measures how quickly a microphone responds to the transient, which is the peak at the start of a sound wave. In an ASMR drawing video, for instance, the first time the pencil touches the sketch is a transient.
SPL Handling
This condenser microphone efficiently handles high sound pressure levels (SPL). For context, maximum SPL denotes the highest sound level that a microphone can handle before distorting.
The AT2020 has a relatively high SPL of 144 dB, at 1 kHz with less than 1% total harmonic distortion (THD).
As a result, you won't have to worry about recording slightly high sounds that are too close to the microphone. With low SPL microphones, this can usually ruin the audio quality, but not with the AT2020.
Who Should Buy the Audio-Technica AT2020?
This section is intended to answer the question you're probably wondering right now: Is the AT2020 right for me?
To begin with, the AT2020 is a more viable option for those who are committed to getting high-quality sound. Otherwise, not everyone will be willing to spend money on a phantom power supply, a microphone stand, cable, and a pop filter/windscreen.
Now, let's look at the professions that will benefit the most from the AT2020 features. Before we get into them, we'd like to point out that this microphone was designed for use in home studios. Consequently, if your work relies on live performances, you should definitely skip this option.
This condenser microphone is a great place to start if you're just starting out as an ASMR artist, vocalist, or podcaster.
The list of professions for which an AT2020 is appropriate extends beyond these. It's also suitable for recording music tracks, voiceovers, and other fields that require greater sensitivity to subtle sounds.
Audio-Technica AT2020 Alternatives
We'll leave you with a couple of alternatives to the AT2020 in case you still want to look into other options. We've listed below two microphones that are considered top choices, particularly for ASMR recordings:
Although the Rode K2 is the most expensive of the microphones mentioned here, it's well worth the money. It's a condenser mic that has a low self-noise of 10 dBA and a high SPL of 162 dB, resulting in optimal high-quality recordings.
Besides, it's a multipattern microphone, which means it has cardioid, omnidirectional, and bi-directional polar patterns. This paves the way for creating various types of recordings. The package also includes a power supply, multi-pin cable, and shock mount.
The Shure SM7B has long been regarded as a pioneer in the realm of home studio microphones, and for a good reason. This is a dynamic microphone that features a cardioid polar pattern.
This microphone produces recordings with unrivaled clarity, richness, and warmth, making it a favorite of ASMR artists as well as podcasters.
The Shure SM7B comes with a CloudLifter, an XLR cable, a CL-1 mic activator, a broadcast arm, and a set of touch-fastener straps.
Verdict
Is the Audio-Technica AT2020 worth it? That's highly dependent on how you intend to use it. Overall, if you ask us, we'd say it's great value for money, especially if you already own or plan to purchase a phantom power supply and a mic stand.
Even though it doesn't produce the best sound quality, it's equipped with features that are good enough to generate spot-on recordings!
---