Zoom H1 Handy Recorder Review - A great solution for starters
Updated on September 10, 2023
Introduction
The Zoom H1 isn't really marketed as a microphone as it is primarily a recorder. It just so happens that it is also equipped with two unidirectional microphones which record in stereo. But for beginner ASMR artists on a budget, it is a great all-in-one option.
For under $100, you'll be able to get both a recorder and a set of good quality microphones. An amazing deal if you ask us, especially considering the fact that most ASMR-friendly microphones usually need a separate recorder for them to work.
It's not too bad as a starting setup for recording ASMR triggers. You can upgrade this setup by purchasing an external microphone once you have the money since the Zoom H1 has an external microphone port.
The Zoom H1 is also very easy to use and operate. It comes with an LCD screen where you can monitor settings as you record. It is powered by a single double A battery and directly records sound on a memory card which is inserted in the recorder.
To know more about this nifty recorder with microphones from Zoom, read our in-depth review below.
Specifications
| | |
| --- | --- |
| Power Requirements | 1 Double A battery |
| Sample Rate | 44.1, 48, or 96 kHz |
| Microphone | 2 built-in X/Y unidirectional microphones |
| Option for external mics | Yes |
| Continuous recording time | Up to 10 hours |
Sound Quality and Noise Performance
As we've said above, the Zoom H1's primary function is recording sound so don't expect too much from its built-in microphones.
We couldn't find any ASMR artists who use the Zoom H1 as a primary microphone, so we can't lead you to channels to view in order to see how it performs. But we can assure you that the Zoom H1 produces good quality sound that is both clear and crisp. Its microphones may be a little bit too sensitive when it comes to breathing but you can easily work around this flaw by focusing your mouth to the sides of the microphones.
You'll also find recording controls such as Auto level, low-cult filter and recording format below the mics. These give you much more control on the audio quality you get which is great.
However, we must warn you that the microphones that come with the Zoom H1 are also a bit too sensitive to room noise. It can pick up the sound of even little bumps and movements so be sure to film your ASMR videos in a really quiet place when using this recorder. On the other hand, this sensitivity is very useful when filming certain types of ASMR triggers which involve making very minute sounds.
Build & Design
What's great about the Zoom H1 is that it comes with a back-lit LCD display. You'll find the record button on the front part of the mic along with a light which serves as an alert for when your audio peaks. You'll also find a USB connection on the other side of the device which you can plug into your camera or your computer depending on what kind of recording setup you're planning on. A word of advice though, you may hear a consistent humming or buzzing sound in the background when you connect the Zoom H1 directly to your camera.
As mentioned above, the Zoom H1 has an extra input where you can plug in an external microphone. This is particularly useful if you're planning to upgrade into better microphones in the long run.
The device also has a headphone jack, SD card slot and headphone volume controls. And as previously mentioned, you can find a low-cut filter on the bottom of the mic which you can use to cut out lower sound frequencies if you need to. Meanwhile, you can use the Auto Level option to make sure that audio isn't distorted by tapering off loud noises. You'll also have the option to record either in WAV or MP3.
When you buy the Zoom H1, you'll get a plastic tripod stand, a plastic handle that you can screw into your mic, a pop filter that you can use to cover the top of your mic, a USB cable and, of course, a case for all these accessories. The plastic stand is a bit flimsy and the plastic handle tends to get picked up by the mic when recording, so we recommend that you don't use them. The recorder's body itself is mostly made of plastic but doesn't feel cheap or easily breakable.
The H1 is powered by a single double A battery. It can record continuously for up to ten hours. But it will also depend on the size of the memory card you have plugged in there. The recorder can handle a maximum of 32 GB memory card.
Recording Setup
The Zoom H1 is ready to be used out of the box. Recording is as easy as popping the recorder out its packaging, putting in a memory card and clicking the record button to start recording. Yes, as simple as that.
However, you can also choose to plug it in either your computer or camera as we've said before. You can play around with various setups until you find one that works the best for you.
Should you choose to upgrade to an external microphone, we're happy to tell you that the Zoom H1 can be used with most ASMR-friendly microphones from Rode products to 3Dio binaural mics.
Pros
Great recorder for ASMR
Multi-functional and portable
Easy monitoring while recording w/ LCD screen
Compatible w/ most external microphones
Cons
Build of mics is delicate, feels a bit cheap
Mics are too sensitive to wind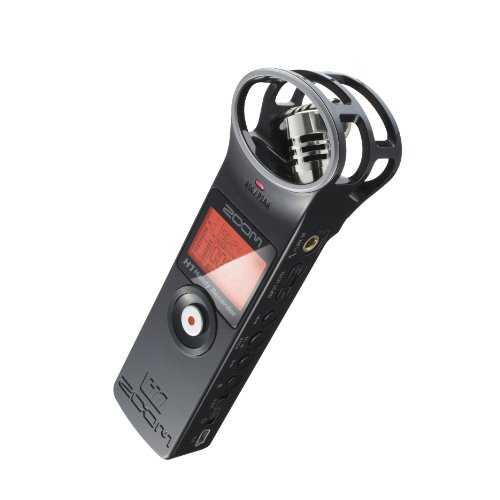 Compared to Other Recorders with Built-in Mics
The Zoom H1 is most similar to the Zoom H4N, another H-series recorder from Zoom. One of the most noticeable difference between the two is in size. The H1 is just about the size of a candy bar making it very portable and lightweight. However, the H4N has the benefit of being more sturdily built than its cheaper counterpart. The H1 retails for just half the price of the H4N.
Verdict
We recommend the Zoom H1 to those of you who are fairly new to ASMR and are looking for a very affordable microphone and recorder setup. As such, we can assure you that the getting the Zoom H1 is a great deal for its price tag of less than $100. Its built-in mics maybe a bit flimsy but you'll still be able to get clear stereo sound from them. Another reason why this is a smart beginner purchase is that you can use better external microphones with the H1 once you have the money to upgrade your equipment.
---