HyperX QuadCast: The Complete Guide
Updated on December 09, 2022
Introduction
When you plan on starting an ASMR channel, one of the most essential pieces of equipment is a microphone. With hundreds of models on the market, choosing one can take a lot of work.
One of the best devices out there is the HyperX QuadCast. So, let's take a look at the features, advantages, and disadvantages of this microphone.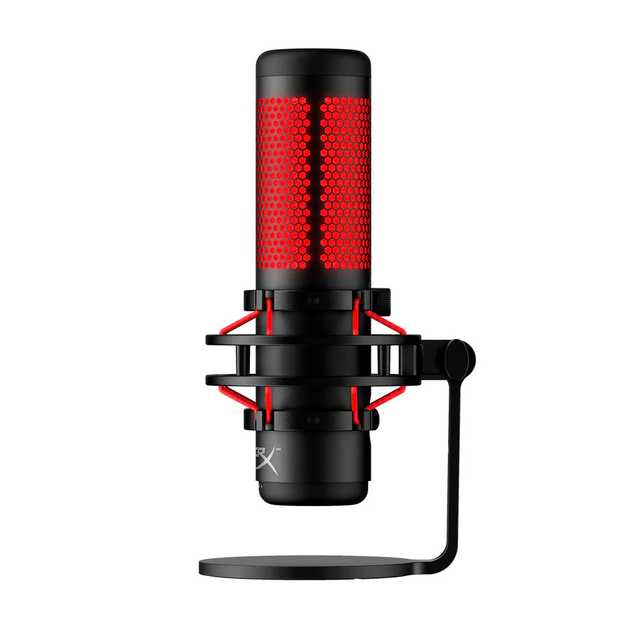 Before we jump into the amazing features of the device, here's a quick overview of the HyperX QuadCast.
Specifications
Length: 5.05 in.

Width: 4 in.

Height: 9.8 in.

Weight: 1.6 lb.

Sample rate: 96 kHz.

Bit depth: 16-bit

Condenser capsules: 14 mm electret capsules

Connection: USB Mini-B

Headphone output: 3.5 mm.

Batteries: 1 lithium-ion battery

Power consumption: 5 V. 125 mA.

Frequency response: 20 Hz. to 20 kHz.

Sensitivity: -36dB
Overview
HyperX has been in the electronics industry for many years. It specializes in creating all types of equipment for gamers.
That includes consoles, keyboards, mice, and, of course, microphones. One of the most impressive models in the brand's catalog is the HyperX QuadCast.
To ensure that its products stand out, the company focuses on a few main aspects:
Comfort

Aesthetics

Performance

Reliability
Together, these elements create microphones that can stand the test of time.
When you unbox the QuadCast, you'll find five items inside. First and foremost, you get the microphone.
Other than that, there's a stand for better stability, a Mini USB cable, and a mic-arm adapter. Finally, HyperX includes a user manual to walk you through all the components and their uses.
That's all you need to kick off your ASMR journey.
HyperX QuadCast Features
Now that you have a little background on HyperX QuadCast, let's jump straight into the features.
Design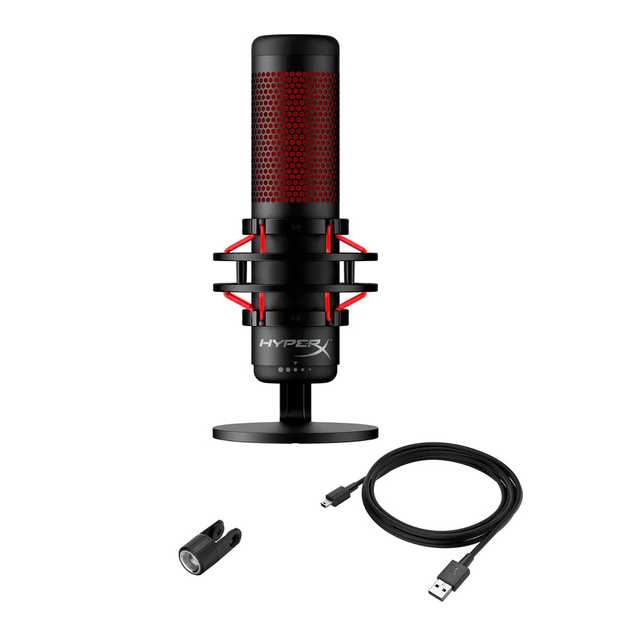 At first glance, you'll notice the main bulk of the microphone is an eight-inch cylinder. The top half of the component is a metallic grate that allows sound to travel through the tiny holes.
As for the bottom half, it's a solid shell to help you handle and move around the device.
To cap it all off, the QuadCast comes with rubber covers on the top and bottom. That'll ensure the safety of the microphones if it slips out of the stand and tumbles to the ground.
This is the section of the device that picks up the sound signals.
For support, the cylinder perfectly fits into a built-in shock mount. The base provides excellent stability due to its design.
It has a circular foot that distributes the weight of the device equally along the diameter. On top of that, the mount consists of sturdy metal that won't tip over easily.
Aside from that, the stand comes with an outer ring of red bands that suspend the microphone. This will reduce the amount of resonance and noise.
Although, if you plan on using the QuadCast for ASMR, consider investing in a boom arm. This will allow you to bring the microphone closer to your face.
In addition, it'll cut down on unwanted vibrations.
Headphone Jack
We all know the struggle of having to listen to our own voices over a recording. However, that's a crucial step to ensure that you're getting the best audio signal possible.
With a regular microphone, you'll need to connect the device to a computer or laptop. Then, send the signal to your speakers to monitor the soundtrack.
Unfortunately, there are a couple of drawbacks to this issue. First off, the audio signal has to travel through a few devices, which means you may lose out on quality.
Other than that, blasting the audio through speakers may affect your recording sessions.
That's why HyperX creates a built-in headphone jack. There's a 3.5 mm opening on the side of the microphone that can connect to most wired headphones on the market.
You can use the jack to listen to recordings in real-time, or for playback later on.
Lighting
One of the most visually striking elements of the HyperX QuadCast is the light feature. As soon as you connect the microphone to a power source, the LEDs will come to life.
Then, when you click on the record button, they start to glow a bright, warm red.
This illumination helps you keep track of what mode you're in. That way, you don't accidentally make noise in the middle of a recording session.
Even though the LEDs cover a large area of the device, they're not too distracting. There's a dampening filter on top that diffuses the light to make it more pleasant.
This feature is especially useful when recording with a large group of people. The lights will let everyone know when they can speak out loud.
Mute Button
We've all had that embarrassing moment when we say something we shouldn't. This can happen quite a few times during any recording session.
You can cut out certain snippets using the magic of editing, but the process is quite tedious. It'll take a lot of time and requires expert skills to do well.
For that reason, many people depend on the mute function. Most computers will come with a feature that allows them to stop input from a microphone.
The only issue with this feature is that there's a small time delay. That means your recording may still include bursts of unwanted conversations.
To make the muting process easier, HyperX includes its own built-in version. There's a button on top of the device that instantly shuts down the recording process.
The red LEDs will power down and turn back on when you unmute the microphone. This is another helpful feature, so you always know when you're recording.
Pop Filter
When recording ASMR audio, any tiny sound will affect your final product. In fact, even strong gusts of air can cause the sound file to spike or peak.
This may make for an incredibly uncomfortable listening experience. For that reason, the QuadCast comes with a pop filter.
That's a foam-like material that lines the inside of the microphone.
Adding this layer will soften the edges of plosive sounds like when we say the letters P, B, G, or T.
While the pop filter will help out with the audio quality, it has limited abilities. It'll only be able to smooth out quiet sounds.
That means it won't have much luck decreasing resonance or unwanted vibrations.
Gain Control
Recording audio on a computer can be a little tricky. You have to take into account factors like volume and gain to make sure you get decent sound quality.
Unfortunately, controlling the gain with a computer can have disastrous effects. It produces static white noise that can be overwhelming with ASMR recordings.
So, HyperX added a gain knob to the QuadCast. When you turn the microphone's bottom cap, you'll be able to change the volume of the device.
It'll take a little trial and error to figure out the best gain settings, but all you have to do is turn the knob.
Polar Patterns
The HyperX QuadCast comes with four distinct polar patterns.
Omnidirectional

Stereo

Bidirectional

Cardioid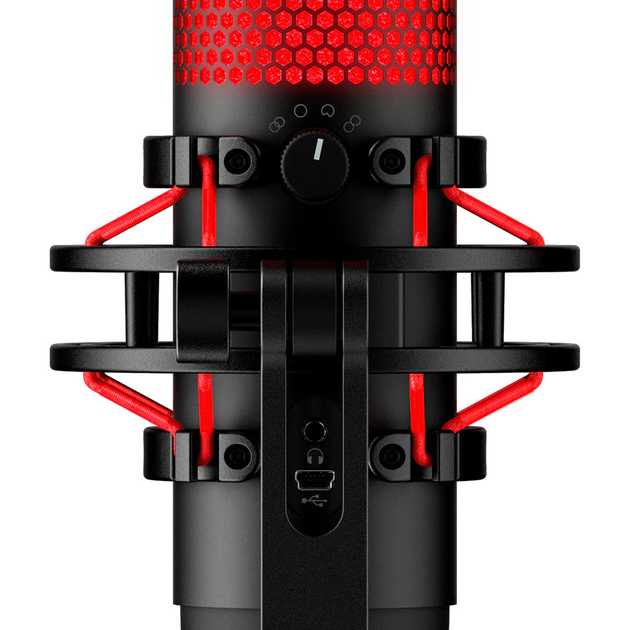 These allow you to control the direction of the input sound waves.
As you can guess by the name, omnidirectional pickup audio in all directions. For this reason, it's great for group interviews like podcasts.
Stereo focuses on waves coming in from the sides and the front. So, it's ideal for recording vocals or instruments.
Moving on, bidirectional records signals approaching the front and back. That makes it perfect for interviews.
Finally, cardioid takes in sound from one direction. This means it can zero in on one audio source at a time and pick up soft vibrations.
That's why it's the polar pattern of choice for many ASMR channels.
To switch between the different patterns, there's a knob on the side of the microphone.
Performance
The QuadCast has a frequency response of about 20 Hz to 20 kHz. On top of that, it's sensitive to -36 dB and can sample at 96 kHz with a 16-bit bitrate.
That means it's an amazing device for recording spoken words. It can pick up on minor vibrations and produce a crisp, clear audio output.
So, QuadCast should have no issues picking up on the soft sounds of ASMR.
Warranty
Another excellent feature of the QuadCast is that it comes with a two-year warranty. HyperX will replace or repair your device in case of any malfunction.
Although this only covers manufacturing errors. For example, if the microphone doesn't fit into the stand or faulty wiring.
Other than that, you may have to contact the customer service department for help.
HyperX QuadCast Pros
Here are some of the most enticing advantages of using the HyperX QuadCast.
Design provides extra stability and cuts down on noise and resonance

Shock absorbent mount decreases unwanted vibrations

Headphone jack allows you to listen to your audio in real time and make adjustments

LEDs signal you when the microphone is recording

Mute button allows you to stop recording at any time and instantly

Gain control allows you to change the volume of the recording with ease

Four different polar patterns for distinct applications

Cardioid mode is perfect for ASMR recordings

Comes with a two-year warranty

Amazing sound quality
HyperX QuadCast Cons
Let's take a look at some of the disadvantages of using the HyperX QuadCast.
Doesn't come with a boom arm, which makes positioning the microphone tricky

Device is pricey compared to other similar models on the market

Pop filter doesn't do a great job of eliminating all unwanted noise
Verdict
Before you decide to purchase a HyperX QuadCast, it's a good idea to be aware of a few features.
For starters, the design is sleek and provides a great deal of stability to reduce resonance. Other than that, the device comes with red LEDs and a headphone jack to keep an ear on the recording.
There's a mute button, a gain controller, and a pop filter. You also get the option between four polar patterns for different recording properties.
Finally, the microphone comes with a two-year warranty.
---